EDWI Faculty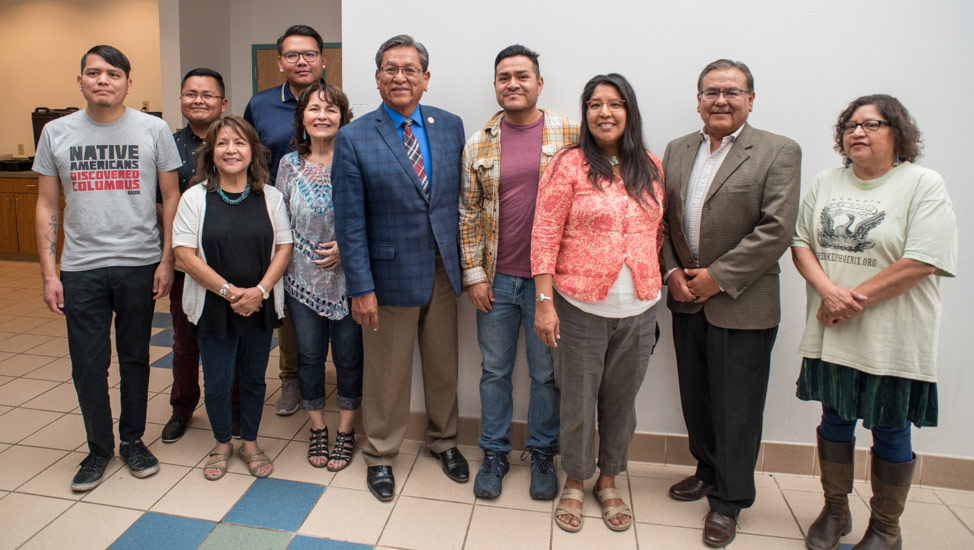 The Institute brings together acclaimed Diné writers and authors to serve as faculty mentors. We also collaborate with institutions like the University of Wisconsin-Milwaukee and the Northern Arizona University to bring non-Diné writers and authors to campus. EDWI participants study with these faculty mentors in poetry, fiction, creative non-fiction, journalism, song writing, and much more. Faculty mentors also include Diné medicine people who share cultural stories.
2022 EDWI Faculty Mentors and Visiting Writers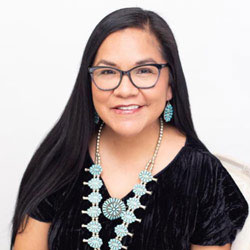 Jolyana Begay-Kroupa is Táchii'nii born for Tsinaajinii; her maternal grandparents are the Tł'ááshchí'í and her paternal grandparents are the Yée'ii Dine'é Táchii'nii. She is from Ts'iłdiilyesiitah (Rabbitbrush) near Fort Defiance, Arizona. She honorably served as the 50th Miss Navajo Nation (2001-2002). She currently resides in the Phoenix-Metro area where she is a Director of Development for Phoenix Indian Center specializing in language and culture revitalization and prevention programs. She has a Master of Arts in Social and Philosophical Foundations of Education with an emphasis in American Indian Education Policy and a Bachelor of Arts in Elementary Education with a Navajo language endorsement, both from Arizona State University. In addition to her work at Phoenix Indian Center, she currently teaches Navajo language classes at Arizona State University and Stanford University. She has also taught for Harvard University and Yale University. Language learning is her passion and she is an advocate on the importance of language revitalization. She is married and has three beautiful children.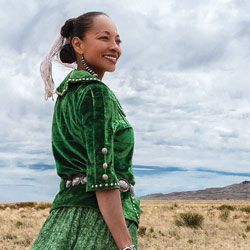 Radmilla Cody is Tł'áá'shchí'í born for Naahiłí (African Americans). Cody holds a Bachelors of Science in public relations with a minor in sociology. She is a Grammy nominee, multiple Native American Music Awards winner, 46th Miss Navajo, one of NPR's 50 Great Voices, a Black History Maker honoree, co-founder of the Shimá Storytelling Literacy Program, founder of the "Strong Spirit: Life is Beautiful, Not Abusive" campaign, and an advocate against domestic abuse and violence. Cody also co-founded the radical space K'é Infoshop based in Window Rock, AZ, where direct work and action is prioritized to educate, organize and strengthen k'é/kinship with all oppressed relatives. Cody is the subject of an award-winning documentary titled "Hearing Radmilla" produced and directed by Angela Webb, which further explores Radmilla's journey as an activist and international performer. Cody has released multiple award-winning albums including Within the Four Directions, Seed of Life, Spirit of a Woman, Shi Keyah, and many more. For more information or to contact her, see www.radmillacody.com.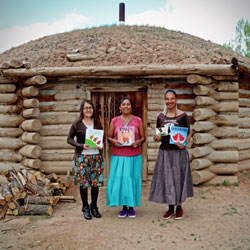 Pauletta Chief-Lee is Tódích'íí'nii born for Tó'áhaní; her maternal grandparents are the Tł'ízíłaní and her paternal grandparents are the Yé'ii Dine'é Táchii'nii. She is co-founder of the Shimá Storytelling Literacy Program, where she works with two other educated Diné mothers who develop and implement Diné curriculum for people of all ages. As a Diné language learning program, Shimá Storytelling focuses their work in Diné communities that lack educational programming for children five and under. Chief-Lee writes songs in the Diné language so parents and guardians can easily follow along. She also reads Diné language storybooks for various language and community groups. Chief-Lee is also a Registered Dietitian Nutritionist (RDN) and a stay-at-home mother. She speaks and teaches Diné bizaad to her children in their bilingual home. She loves to write in Diné bizaad and actively reads the Navajo Bible and other Diné language books. She is pleased to work with a Diné teaching program that has become a resource for families who desire to enrich and relearn their Diné language.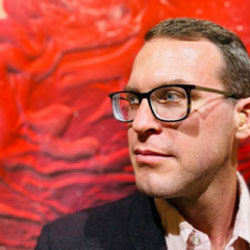 Will Cordeiro teaches creative writing workshops and interdisciplinary seminars for Northern Arizona University's Honors College. Will's work is published or forthcoming in AGNI, Bennington Review, Cimarron Review, The Cincinnati Review, Copper Nickel, The Threepenny Review, THRUSH, and elsewhere. Will's collection Trap Street won the 2019 Able Muse Book Award. Will is also co-author of Experimental Writing: A Writers' Guide and Anthology, forthcoming from Bloomsbury. Will co-edits the small press Eggtooth Editions and is grateful for a grant from the Arizona Commission on the Arts. Will received an MFA and Ph.D. from Cornell University.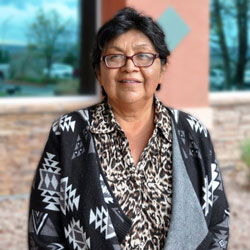 Dr. Jennifer Nez Denetdale is Tł'ógí born for 'Áshįįhi; her maternal grandparents are the Kin Łichíi'nii and her paternal grandparents are the Tó'aheedlíinii. Dr. Denetdale is a professor of American Studies at the University of New Mexico. She is the author of Reclaiming Diné History: The Legacies of Chief Manuelito and Juanita, two books for young adults, and she has published numerous essays, articles, and book chapters. She has been recognized for her scholarship and service to the Diné Nation with several awards, including the Rainbow Nááts'íílid True Colors for her support and advocacy on behalf of the Navajo LGBTQI, the UNM Sarah Brown Belle award for service to her community, and UNM's Presidential Award for Distinction. Dr. Denetdale is the recipient of the Women's International Study Center Fellowship and the Newberry Consortium of American Indian Studies Fellowship, both in 2019. In 2020, Dr. Denetdale was awarded UNM's 6th Annual Community Engaged Research Lectureship. She is the chair of the Navajo Nation Human Rights Commission (NNHRC).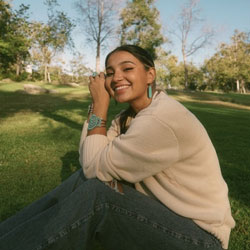 Kinsale Drake is Nát'oh Dine'é Táchii'niii born for Bilagáana; her maternal grandparents are the 'Áshįįhi and her paternal grandparents are the Bilagáana. Drake is a writer and narrator whose work has appeared in The Adroit Journal, Yale Literary Magazine, TIME, New World Coming (Torrey House Press, 2021), her zine Hummingbird Heart (Abalone Mountain Press, 2022), and elsewhere. She is an In-Na-Po Fellow, and the recent winner of the Academy of American Poets/Sean T. Lannan Poetry Prize, and the Young Native Playwrights Award. Her work is forthcoming in Poetry Online, Poets.org, The Languages of our Love (Abalone Mountain Press, 2022), and elsewhere.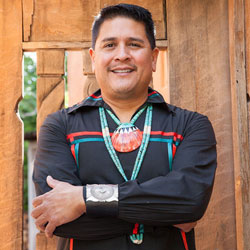 Max Early is from Laguna Pueblo. His clans are Tsina Hanu (Turkey People) and Kwaya Waashch'ee (Child of the Bear). He writes in both English and his native Keresan language. Early holds an M.F.A. in poetry from the Institute of American Indian Arts and a BA in English and creative writing from the University of New Mexico. He has received fellowships from Writing By Writers, Orion in the Wilderness, the School of Advanced Research in Santa Fe, New Mexico, and the Taos Summer Writers' Conference. His work has appeared in Inkwell Journal and Poetry Northwest. He is the author of Ears of Corn: Listen from 3: A Taos Press. In addition to being a writer, Early also works in clay, creating innovative and beautiful pottery. He lives in the village of Paguate, New Mexico.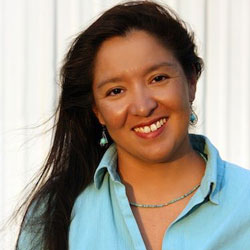 Ramona Emerson is a Diné writer and filmmaker originally from Tohatchi, New Mexico. She received her degree in media arts in 1997 from the University of New Mexico and her M.F.A. in creative writing (fiction) in 2015 from the Institute of American Indian Arts. She has worked as a professional videographer, writer, and editor for over twenty years and is currently working on her 8th film project, Crossing the Line. She is an Emmy nominee, a Sundance Native Lab Fellow, a Time-Warner Storyteller Fellow, a Tribeca All-Access Grantee, and a WGBH Producer Fellow. In 2020, Emerson was appointed to the Governor's Council on Film and Media Industries for the State of New Mexico. Emerson just finished her first novel, Shutter the first of a trilogy, and is now working toward publishing and adapting the series into a screenplay. Through her storytelling, Emerson looks at contemporary stories about her people and aims to question and redefine the expectations of Native cultural identity, highlighting stories that are not a part of mainstream media. She currently resides in Albuquerque, New Mexico where she and her husband/producer, Kelly Byars, run their production company Reel Indian Pictures.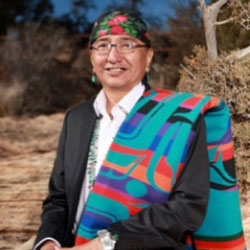 Rex Lee Jim is Kin Łichíi'nii born for Táchii'nii; his maternal grandparents are the Kinyaa'áanii and his paternal grandparents are the Naakaii Dine'é. Jim is from Rock Point, Arizona. A poet, playwright, and medicine man, Jim attended Princeton University, Middlebury Bread Loaf School of English, and Oxford University in England. He is fluent in Navajo, English, and Spanish. Although known mostly for his political career as former Navajo Nation Vice-President, Jim has extensive experience as a writer. He is an accomplished poet and has written three collections of poetry including: Saad Lá Tah Hozhóon (2019), which is a reprint of Jim's trilingual collection of poetry titled Duchas Taa Koo Diné: a trilingual poetry collection in Navajo, Irish, and English (1998); Saad (1995); and Áhí Ni'Nikisheegiizh (1989). Jim continues to reside in his home community of Rock Point and he currently works at Diné College in Tsaile, Arizona.
Boderra Joe is Bit'ahnii born for Tó'áhani. She is a poet, journalist, and photographer from Bááhztł'ah (Twin Lakes), New Mexico, on the Navajo Nation. Joe holds an M.F.A. and B.F.A. from the Institute of American Indian Arts, where she serves as Program Coordinator for the M.F.A. in Creative Writing program. Joe's first collection of poetry titled Desert Teeth is forthcoming from Abalone Mountain Press in August 2022. She currently resides in Santa Fe, New Mexico.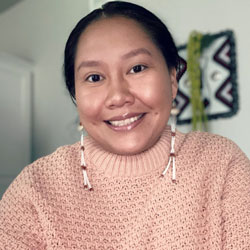 Blossom Johnson is Yé'ii Dine'é Táchii'nii. She is a Diné storyteller, playwright, teaching artist, dramaturg, and screenwriter. Johnson has been commissioned by AlterTheater Ensemble and has been awarded a residency with Willowtail Springs/Durango PlayFest. She is excited to make a smooth transition from theater to film narrative with the In Progress NEXUS Program in St. Paul, MN. Additionally, she has been awarded the 2022 First Peoples Fund Cultural Capital Fellowship, La Lengua/AlterTheater Ensemble's Decolonization Stories Commission 2022 and is proud to be a recipient of The Playwrights' Center 2022-23 Jerome Fellowship. She is a mentee in writing for animation with the Netflix Animation Foundations Program 2022. As a dramaturg, Johnson has worked with Native Voices at the Autry, UCSB Launch Pad, PlayPenn, Urbanite Theatre, New Native Theatre and YIPAP (Yale Indigenous Performing Arts Program). She has served as a panelist and script reader for the 22' Playwrights' Center Many Voices Fellowship and the 22' New Harmony Project. Johnson holds an M.F.A in dramaturgy from Columbia University and a BA in Theatre from Arizona State University. She is a proud member of the Dramatists Guild, and the Literary Managers and Dramaturgs of the Americas (LMDA).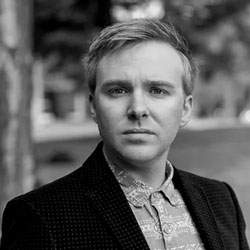 Lawrence Lenhart is the author of The Well-Stocked and Gilded Cage (Outpost 19). His prose appears in publications like the Alaska Quarterly Review, Fourth Genre, Guernica, Gulf Coast, Passages North, Prairie Schooner, Western Humanities Review, and elsewhere. He teaches fiction and creative nonfiction at Northern Arizona University. Lenhart is an editor at DIAGRAM and a frequent writer for The Rumpus and Brazos Bookstore. He holds an M.F.A. from the University of Arizona.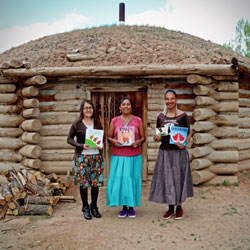 Stephanie Littlehat is co-founder of the Shimá Storytelling Literacy Program, where she works with a team of educated Diné moms with unique backgrounds to develop curriculum for everyone willing to learn the Diné language. In addition, she volunteers with the Navajo Nation Library in Navajo literacy work. As a stay-at-home mom, Littlehat developed her own age-appropriate curriculum to teach her children the Navajo language. Littlehat and her husband worked together to make the Navajo language their children's first language. She is passionate about promoting the Navajo language through conversational speech, literacy, songs, and games. Before becoming a mother, Littlehat's career in speech therapy included working with children ranging from infant to middle school. In her career, she worked with Diné, Lakota, and low socioeconomic families on and off the reservation. Littlehat obtained her bachelor's degree in Communicative Disorders with an emphasis in Early Childhood from San Jose State University in California (2000). She was raised in Alamo, New Mexico and currently resides in Gallup, New Mexico, with her husband and their three sons.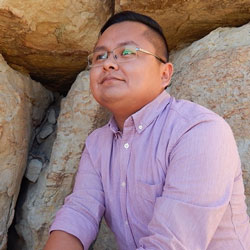 Manny Loley is 'Áshįįhi born for Tó Baazhní'ázhí; his maternal grandparents are the Tódích'íi'nii and his paternal grandparents are the Kinyaa'áanii. Loley holds an M.F.A. in fiction from the Institute of American Indian Arts, and he is a current Ph.D. candidate in English and literary arts at the University of Denver. Loley is an inaugural In-Na-Po Fellowm, and a member of Saad Bee Hózhǫ́: Diné Writers' Collective. He is the director of the Emerging Diné Writers' Institute and the program coordinator for Six Directions: Indigenous Creative Writing Program through Lighthouse Writers Workshop in Denver, CO. His work has found homes in Poetry Magazine, Pleaides Magazine, the Massachusetts Review, the Santa Fe Literary Review, Broadsided Press, the Yellow Medicine Review, and the Diné Reader: an Anthology of Navajo Literature, among others. His writing has been thrice nominated for Pushcart Prizes. Loley is at work on a novel titled They Collect Rain in Their Palms. He is from Tsétah Tó Ák'olí in New Mexico.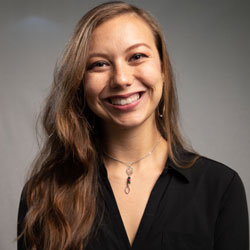 Arielle Taitano Lowe is a Chamorrita poet who tells stories of Indigenous apprenticeship and intergenerational healing. A University of Guam alumna, she is pursuing her Ph.D. in English at the University of Hawai'i at Mānoa. Her work can be found in Indigenous Literatures from Micronesia, Indigenous Pacific Islander Eco-Poetry, and the Academy of American Poets Poem-a-Day Series.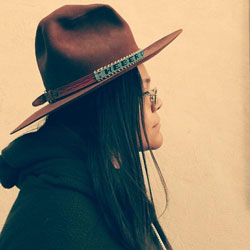 Cheyanne Lozano is Tł'ízí Lání born for the Hispanic people. She lives in El Paso, Texas where she is currently working on earning an M.F.A. in creative writing at the University of Texas at El Paso. At her university she helped found ARISE- The Academic Revival of Indigenous Studies and Education: a student organization devoted to educating their community about Indigenous history, diversity, current events, and current issues. Her goals are to eventually be a creative writing teacher to help others the way writing has helped her. Lozano is an inaugural Hane' Bee Anoosééł Teaching Fellow for the Emerging Diné Writers' Institute.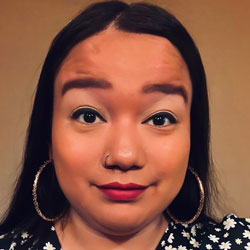 Shaina A. Nez is Táchii'nii born for Áshįįhi. She is a Diné mother, writer, and doctoral student. She earned her M.F.A. in creative nonfiction from the Institute of American Indian Arts in Santa Fe, New Mexico. Her work has appeared in The Massachusetts Review, Yellow Medicine Review, Nonwhite and Woman: 131 Micro Essays on Being in the World from Woodhall Press, Chapter House Magazine, and Abalone Mountain Press. She is a Tin House alumni and a recipient of the 2021 Open Door Career Advancement Grant for BIPOC women writers. She lives in Bloomfield, New Mexico, with her daughter and is a Diné College faculty member in Creative Writing.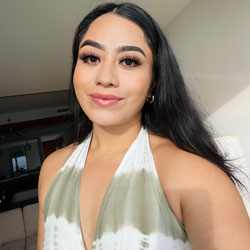 Ha'åni Lucia Falo San Nicolas is a Pacific daughter, teacher, scholar, and poet of CHamoru and Samoan descent. Born and raised in Guåhan, she now resides in O'ahu to pursue a doctorate in Indigenous Politics and an advanced graduate certificate in Women, Gender, and Sexuality Studies at the University of Hawai'i at Mānoa. Ha'åni also holds a graduate assistantship to instruct introductory-level courses for the Department of Political Science. She is a 2022 Indigenous Nations Poets fellow and has published work in the Academy of American Poets Poem-A-Day Series, Changing Wxmen Collective's literary magazine, and more.
Sarah Elizabeth Schantz is primarily a fiction writer living on the outskirts of Boulder, Colorado in a Victorian-era farmhouse she rents from Open Space where she and her family are surrounded by open sky, coyote, and century-old cottonwoods. Her first novel Fig debuted from Simon & Schuster in 2015 and was selected by NPR as A Best Read of the Year before winning a 2016 Colorado Book Award. She is currently working on two novels—Roadside Altars and Just Like Heaven—as well as a short story collection, Tales of Dead Children. She teaches creative writing as faculty at Lighthouse Writers Workshop, as an adjunct for the Jack Kerouac School of Disembodied Poetics, and through her own private seasonally-inspired workshop series, (W)rites of Passage where she also offers one-on-one writing midwifery and divination.
Jake Skeets is Tsi'naajínii born for Tábąąhá; his maternal grandparents are the Táchii'nii and his paternal grandparents are the Tódík'ózhí. Skeets is from Vanderwagen, New Mexico. He is the author of Eyes Bottle Dark with a Mouthful of Flowers, winner of the 2018 National Poetry Series. He holds an M.F.A. in poetry from the Institute of American Indian Arts. His honors include a 92Y Discovery Poetry Prize and 2020 Whiting Award. He is a member of Saad Bee Hózhǫ́: Diné Writers' Collective. Skeets is an Assistant Professor and teaches at Diné College in Tsaile, Arizona.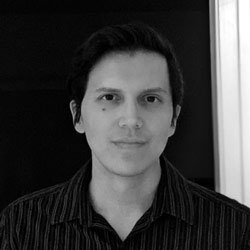 Sean Sam is Bilagáana born for Tsi'naajínii; his maternal grandparents are the Bilagáana and his paternal grandparents are the Naasht'ezhi Dine'é. He holds an M.S. in Professional Writing from Towson University. He is the winner of Terrain.org's 12th Annual Fiction contest and was a finalist for the James Welch Prize in 2022. His work has appeared or is forthcoming in Salt Hill, Poetry Northwest, and Potomac Review, among other places.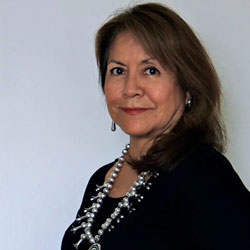 Dr. Laura Tohe is Tsénahabiłnii born for the Tódich'inii. She grew up at the base of the Chuska Mountains in Crystal, New Mexico. Dr. Tohe earned her B.A. from the University of New Mexico and her M.A. and Ph.D. in creative writing and literature from the University of Nebraska in Lincoln. Dr. Tohe is the author of Making Friends with Water; No Parole Today (named Poetry Book of the Year by the Wordcraft Circle of Native American Writers and Storytellers); Sister Nations: Native American Women Writers on Community, co-edited with Heid Erdrich; Tseyí Deep in the Rock, in collaboration with photographer, Stephen Strom (received the Arizona Book Association's Glyph Award for Best Poetry and Best Book); and Code Talker Stories. The Phoenix Symphony commissioned her to write the libretto for "Enemy Slayer, A Navajo Oratorio," which made its 2008 world premiere as part of the Phoenix Symphony's 60th anniversary. A compact disc recording of "Enemy Slayer" is on the Naxos classical music label. It received rave reviews by the Arizona Republic and was called "a triumph" by Opera Today. Her other awards include the Dan Schilling Public Scholar Award by the Arizona Humanities. Dr. Tohe is professor emeritus for Arizona State University and she is the current Navajo Nation Poet Laureate. Dr. Tohe was also named a 2020 Poet Laureate Fellow by the Academy of American Poets.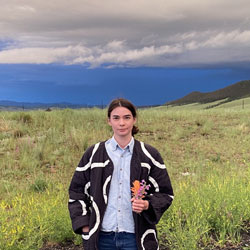 Alex Toy is a Maine writer and astrologer. She is a doctoral candidate at the University of Denver and is working on her first novel. She will be offering a 6-week class on writing and astrology this fall through Vocational Poetics.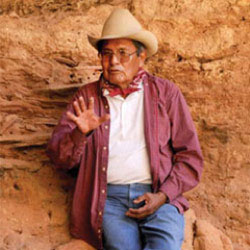 Harry Walters is a scholar, archaeologist, historian, Diné cultural consultant, teacher, and former director of the Diné College Historical Museum, which he held for 35 years before retiring in 2008. He attended the Institute of American Indian Arts, the Kansas City Art Institute, and the College of Santa Fe. Walters is from Cove, Arizona.