EDWI Faculty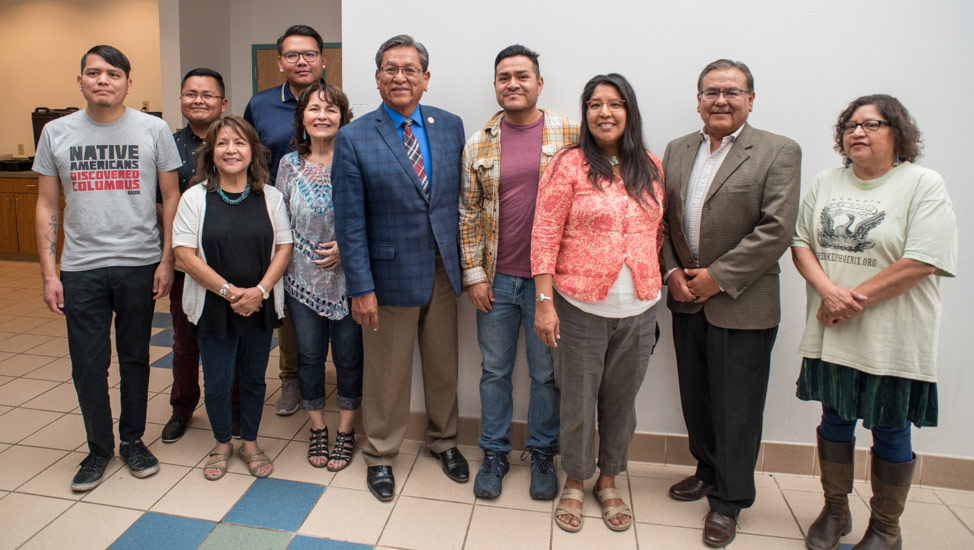 The Institute brings together acclaimed Diné writers and authors to serve as faculty mentors. We also collaborate with institutions like the University of Wisconsin-Milwaukee and the Northern Arizona University to bring non-Diné writers and authors to campus. EDWI participants study with these faculty mentors in poetry, fiction, creative non-fiction, journalism, song writing, and much more. Faculty mentors also include Diné medicine people who share cultural stories.
2020 EDWI Faculty Mentors and Visiting Writers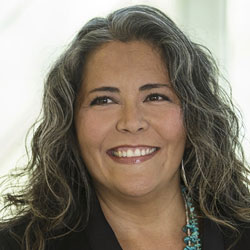 Rowena Alegría is Chief Storyteller for the City & County of Denver, founder and director of I Am Denver, a citywide storytelling and cultural preservation project. A 2019 Jack Jones Literary Arts Fellow, 2019 Vermont Studio Center Fellow and 2018 Writing by Writers Fellow, Alegría earned an MFA from the Institute of American Indian Arts and is a member of Sandra Cisneros' Macondo Writers Workshop. Her fiction and creative nonfiction have appeared in The Rumpus, the Mississippi Review, Tribal College Journal and elsewhere. A career journalist, communications executive and speech writer, she is writing a novel that plays with form and the history of the Southwest. For more, see RowenaAlegria.com and IAmDenver.org.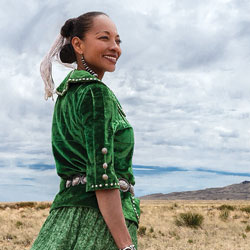 Radmilla Cody is Tł'áá'shchí'í born for Naahiłí (African Americans). Cody holds a Bachelors of Science in public relations with a minor in sociology. She is a Grammy nominee, multiple Native American Music Awards winner, 46th Miss Navajo, one of NPR's 50 Great Voices, a Black History Maker honoree, and an advocate against domestic abuse and violence. Cody is the subject of an award-winning documentary titled "Hearing Radmilla" produced and directed by Angela Webb, which further explores Radmilla's journey as an activist and international performer. Cody has released multiple award-winning albums including Within the Four Directions, Seed of Life, Spirit of a Woman, Shi Keyah, and many more. For more information or to contact her, see www.radmillacody.com.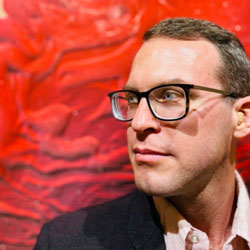 Will Cordeiro lives in Flagstaff and teaches creative writing workshops and interdisciplinary seminars for Northern Arizona University's Honors College. Will's work is published or forthcoming in Agni, Best New Poets, Cimarron Review, The Cincinnati Review, Copper Nickel, Nashville Review, Poetry Northwest, Sycamore Review, Tinderbox Poetry Journal, The Threepenny Review, and elsewhere. Will's collection Trap Street won the 2019 Able Muse Book Award. Will co-edits the small press Eggtooth Editions and is grateful for a grant from the Arizona Commission on the Arts. Will received an MFA and Ph.D. from Cornell University.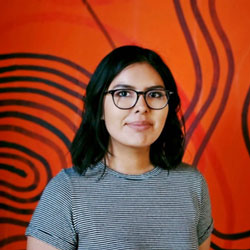 Sierra Edd is a Diné poet and artist who grew up in Durango, Colorado / Four Corners. She is Tł'ógi born for Kinłichii'nii. In her work, she highlights the experiences of Native women, incorporating themes of spirituality, trauma, healing, and Indigenous futures. Her poetry has been included in the AsUs online journal, Red House Wanderings art book student publication, and the Anthology of Emerging Poets from Z Publishing House. She is currently a doctoral student in Ethnic Studies at the University of California, Berkeley.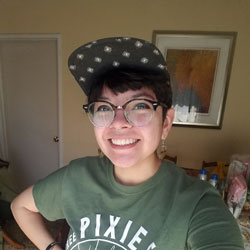 Julie Fiveash is Kinyaa'áanii born for Naakai Dine'é; their maternal grandfather's clan is Táchii'nii and their paternal grandfather's clan is Bilagáana. Julie's pronouns are they/them/theirs and they identify as non-binary. They are from Yuma, Arizona and currently live in Los Angeles, California. They received their B.A. in Studio Art from Dartmouth College. Their experience in college creating zines and publishing comics in the school newspaper encouraged them to keep making comics and they moved to San Francisco shortly after graduating. They managed a comic book store for three years while traveling to sell their work at zinefest and comic festivals all around the U.S. Their work has been featured in two Dirty Diamond comic collections and has been a featured artist on the "Baylies." They've moderated panels at the Queer Comics Conference and has co-edited a fanzine that raised $3000 for non-profit organizations. They are currently pursuing their MLIS degree at UCLA's Department of Information Studies and continues to make comics, being recently featured in "Parsley, Sage, Rosemary, & Quarantine: Recipe Comics for Social Distancing."
Veronica Golos is the author of four poetry collections: A Bell Buried Deep (Story Line Press, winner of the Nicholas Roerich Poetry Prize), Vocabular of Silence (Red Hen Press, winner of the New Mexico Book Award), Rootwork (3:A Taos Press), and Girl (Awarded the Naji Naaman Honor Prize for Poetry, Beirut, Lebanon). Golos is the founding co-editor of the Taos Journal of International Poetry & Art, former poetry editor for the Journal of Feminist Studies in Religion, faculty for the Tupelo Press Writers Conference, and Acquisitions Consultant for 3:A Taos Press. She lives in Taos, New Mexico with her husband, David Perez.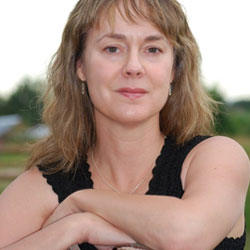 Stephanie G'Schwind is editor-in-chief of Colorado Review and director of The Center for Literary Publishing at Colorado State University. She is also editor of the nonfiction anthologies Man in the Moon: Essays on Fathers & Fatherhood and Beautiful Flesh: A Body of Essays.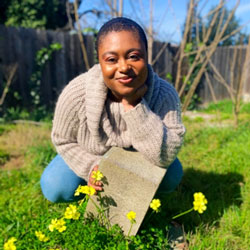 Raihana Jacqueline Haynes-Venerable is an artist, a photographer, a poet, and a scholar. She received her B.A. in Critical Theory and Social Justice at Occidental College in Los Angeles, CA and her MFA in Poetry at Mills College in Oakland, CA. Her love of black and white photography began during her four years of high school and has continued to fuel and enhance her written work. Her photograph "Fathers and Sons" can be found in the 2018 Winter issue of Camas magazine, and you can access her poetry & photo series "Places to Find the american Flag in Arizona" in the inaugural issue of Granada.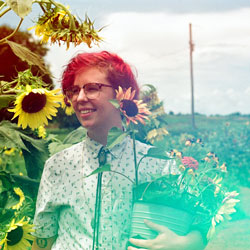 Jules Hogan is fiction editor with Hayden's Ferry Review and a fiction candidate at Arizona State University. Their work can be found in The Sonora Review, Appalachian Heritage, and Yalobusha Review. When not in Phoenix, Hogan enjoys hiking and bird watching in the blue ridge mountains.
Joanna Howard is a writer and translator from Miami, Oklahoma. She is the author of the memoir Rerun Era (McSweeney's, 2019), the novel Foreign Correspondent (Counterpath, 2013), a story collection On the Winding Stair (Boa editions, 2009), and In the Colorless Round a prose collaboration with artist Rikki Ducornet (Noemi, 2006). She co-wrote Field Glass, a speculative novel, with Joanna Ruocco (Sidebrow, 2017). Her work has appeared in Conjunctions, Paris Review, Verse, Bomb, Chicago Review, Brooklyn Rail, and parts elsewhere. She lives in Denver and Providence and teaches at University of Denver.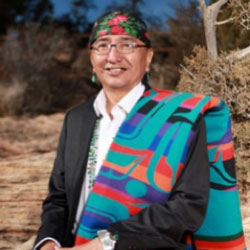 Rex Lee Jim is Kin Łichíi'nii born for Táchii'nii; his maternal grandparents are the Kinyaa'áanii and his paternal grandparents are the Naakaii Dine'é. Jim is from Rock Point, Arizona. A poet, playwright, and medicine man, Jim attended Princeton University, Middlebury Bread Loaf School of English, and Oxford University in England. He is fluent in Navajo, English, and Spanish. Although known mostly for his political career as former Navajo Nation Vice-President, Jim has extensive experience as a writer. He is an accomplished poet and has written three collections of poetry including: Saad Lá Tah Hozhóon (2019), which is a reprint of Jim's trilingual collection of poetry titled Duchas Taa Koo Diné: a trilingual poetry collection in Navajo, Irish, and English (1998); Saad (1995); and Áhí Ni'Nikisheegiizh (1989). Jim continues to reside in his home community of Rock Point and he currently works at Diné College in Tsaile, Arizona.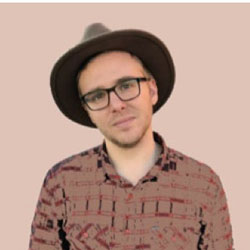 Lawrence Lenhart is the author of The Well-Stocked and Gilded Cage (Outpost 19). His prose appears in publications like the Alaska Quarterly Review, Fourth Genre, Guernica, Gulf Coast, Passages North, Prairie Schooner, Western Humanities Review, and elsewhere. He teaches fiction and creative nonfiction at Northern Arizona University. Lenhart is an editor at DIAGRAM and a frequent writer for The Rumpus and Brazos Bookstore. He holds an M.F.A. from the University of Arizona.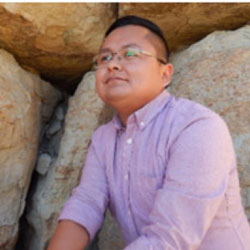 Manny Loley is 'Áshįįhi born for Tó Baazhní'ázhí; his maternal grandparents are the Tódích'íi'nii and his paternal grandparents are the Kinyaa'áanii. Loley is from Casamero Lake, New Mexico. He holds an M.F.A. in fiction from the Institute of American Indian Arts and he is a current Ph.D. candidate in English and literary arts at the University of Denver. Loley is a member of Saad Bee Hózhǫ́: Diné Writers' Collective and director of the Emerging Diné Writers' Institute. His work has appeared in HIKA, Pollentongue: An Indigenous Poetry Salon and Reading, RED INK, the Santa Fe Literary Review, and is forthcoming in Diné Reader: an Anthology of Navajo Literature. His short story "Na'nízhoozhi Di" was nominated for a Pushcart Prize by the Santa Fe Literary Review in 2019. Loley is at work on a novel titled They Collect Rain in Their Palms.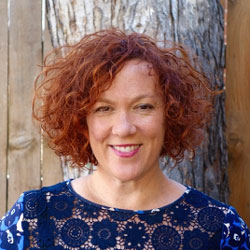 Joanna Luloff is co-editor of Copper Nickel and Associate Professor of English and creative writing at the University of Colorado Denver. She is the author of two books—the novel Remind Me Again What Happened (Algonquin, 2018) and the story collection The Beach at Galle Road (2012), which was chosen as a Discover Great New Writers Barnes & Noble selection and won the Maria Thomas Fiction Award. She has received residency fellowships from Ragdale, Willapa Bay AiR, and Virginia Center for the Creative Arts, and her work has appeared in Hawaii Pacific Review, Locomotive Magazine, The Missouri Review, Western Humanities Review, and elsewhere.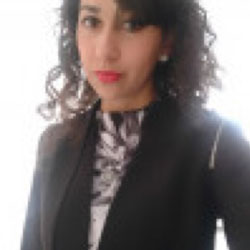 Kristian Macaron is a Latinx/Lebanese writer from Albuquerque, NM. She attended the University of New Mexico for undergraduate studies and graduated from Emerson College in Boston, MA with an MFA in Fiction in 2012. She is currently an English instructor at the University of New Mexico Valencia Branch Campus and a Faculty Coordinator and volunteer course developer for the University of the People. Kristian's poetry chapbook collection titled Storm was released in 2015 by Swimming with Elephants Publications. She has presented her work at various readings including Chatter Albuquerque, ABQ Slams, KUNM, and the Pen & Poet podcast. Other writing publications can be found in The Winter Tangerine Review, Ginosko Literary Journal, The Mantle Poetry, Luna Luna Magazine, Gargoyle Magazine, Drunk Monkey's Magazine, Red Planet Magazine and forthcoming in Asimov's Science Fiction, Gyroscope Review, & others. She is a co-founding editor of the NM-based literary journal, Manzano Mountain Review, which she began with co-editor Justin Bendell in 2017. View her work at Kristianmacaron.com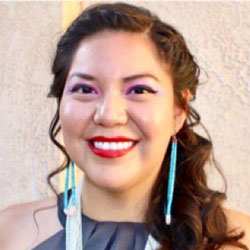 Amber McCrary is Kin Łichíi'nii born for Naakaii Dine'é; her maternal grandparents are the 'Áshįįhi and her paternal grandparents are the Ta'neeszahnii. She is from Shonto, Arizona. McCrary is a Diné poet, zinester, and feminist. She holds an M.F.A. in poetry from Mills College in Oakland, California. McCrary is the author of the chapbook Electric Deserts (Tolsun Books). She is the 2020 EDWI Lead Author and the core faculty for poetry.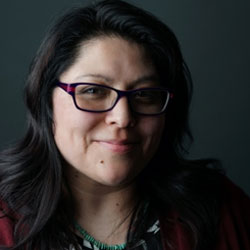 Natanya Ann Pulley is born to Kinyaa'áani. She's published in Waxwing, Split Lip Magazine, As/Us, and The Offing (among others). Natanya is the founding editor of Hairstreak Butterfly Review and teaches texts by Native American writers, Fiction Writing, and Experimental Forms at Colorado College. Her debut story collection With Teeth was published by New Rivers Press (Oct. 2019) and her writing can be found at natanyapulley.com.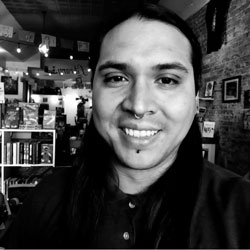 Adrian T. Quintanar is from Pomona, California and received an MFA in Poetry from the Institute of American Indian Arts, and his BA from Hampshire College. He is the managing editor of Chapter House Journal (formerly known as Mud City Journal). His work has appeared in RED INK Journal, Santa Ana River Review, and is forthcoming in Peripheries: a journal of word and image, Kweli Journal and Hinchas de Poesia.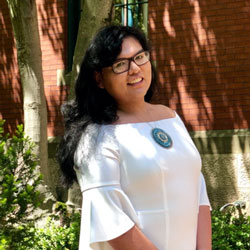 Charlie Amáyá Scott is a Diné scholar born and raised within the central part of the Navajo Nation. They are Naasht'ézhí Tábaahá born for Tsénjíkiní; their maternal grandparents are the Áshįįhí and their paternal grandparents are the Kiis'áanii. Charlie reflects, analyzes, and critiques what it means to be Queer, Trans, and Diné in the 21st century on their personal blog, dineaesthetics.com. They are an avid social media user with 3k+ followers on Instagram, TikTok, and Twitter. In addition, they are a doctoral student in higher education at the University of Denver. Their English pronouns are they/them.
Mona Scott-Figueroa is Táchii'nii born for Naahiłí (African Americans); her maternal grandfather is 'Áshįįhi and her paternal grandfather is Naahiłí. She is from Birdsprings on the Navajo Nation. Her maternal grandparents are Louise Curley and the late Harris Curley. Mona earned her doctorate in Educational Leadership and Innovation with an emphasis in American Indian Studies from ASU. Her dissertation focused on strategies for retaining Native students at Mesa Community College (MCC) where she has taught American Indian Studies and Sociology since 1999. She earned her MA in Sociology from ASU and her BA in Sociology from the University of Southern California. She also mentors high school students in a high school to college bridge program. Her teaching and research background include Indigenous epistemologies; inequalities and power with an emphasis on race and ethnicity. She draws heavily from life experiences growing up in South Central Los Angeles, in Birdsprings, and in Winslow, Arizona.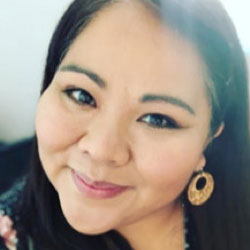 Roanna Shebala is Tsénjíkíní born for Deeshchíí'nii; her maternal grandparents are the Tótsohnii and her paternal grandparents are the Naasht'ézhi Dine'é. She is from Fort Defiance, Arizona. Shebala earned her B.S. in theater at Northern Arizona University and is a current M.F.A. in creative writing student at the Institute of American Indian Arts in Santa Fe, New Mexico. She is a spoken word artist who has been featured on four National Poetry Slam teams, five-time representative on the Women of the World Poetry Slam team, and a two-time representative for the Individual of the World Poetry Slam. Her work has been featured in Button Poetry, Indian Country Today, in various zines, and magazines such as Annick Press, Red Ink, Wicked Banshee Press, and Suspect Press. Shebala has performed her spoken word poetry at the Lincoln Center for the Out of Doors Project and nationally. She credits her father for gifting her with storytelling; her work combines story, poetry, and performance. She is also a member of Saad Bee Hózhǫ́: Diné Writers' Collective.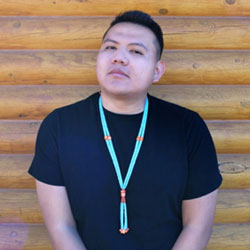 Jake Skeets is Tsi'naajínii born for Tábąąhá; his maternal grandparents are the Táchii'nii and his paternal grandparents are the Tódík'ózhí. Skeets is from Vanderwagen, New Mexico. He is the author of Eyes Bottle Dark with a Mouthful of Flowers, winner of the 2018 National Poetry Series. He holds an M.F.A. in poetry from the Institute of American Indian Arts. His honors include a 92Y Discovery Poetry Prize and 2020 Whiting Award. He is a member of Saad Bee Hózhǫ́: Diné Writers' Collective. Skeets is an Assistant Professor and teaches at Diné College in Tsaile, Arizona.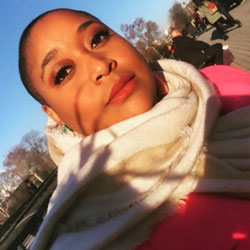 Mimi Tempestt is a daughter of California. She is an artist, writer, and academic whose works are aimed at disrupting negative and stereotypical narratives around the iconography and constructions of black and queer people. She is the 2019 winner of the Mary Merritt Henry Prize for a group of poems, and her debut book of poetry, The Monumental Misrememberings, is scheduled to be published with Co-conspirator Press in the Fall of 2020.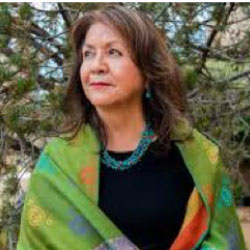 Dr. Laura Tohe is Tsénahabiłnii born for the Tódich'inii. She grew up at the base of the Chuska Mountains in Crystal, New Mexico. Dr. Tohe earned her B.A. from the University of New Mexico and her M.A. and Ph.D. in creative writing and literature from the University of Nebraska in Lincoln. Dr. Tohe is the author of Making Friends with Water; No Parole Today (named Poetry Book of the Year by the Wordcraft Circle of Native American Writers and Storytellers); Sister Nations: Native American Women Writers on Community, co-edited with Heid Erdrich; Tseyí Deep in the Rock, in collaboration with photographer, Stephen Strom (received the Arizona Book Association's Glyph Award for Best Poetry and Best Book); and Code Talker Stories. The Phoenix Symphony commissioned her to write the libretto for "Enemy Slayer, A Navajo Oratorio," which made its 2008 world premiere as part of the Phoenix Symphony's 60th anniversary. A compact disc recording of "Enemy Slayer" is on the Naxos classical music label. It received rave reviews by the Arizona Republic and was called "a triumph" by Opera Today. Her other awards include the Dan Schilling Public Scholar Award by the Arizona Humanities. Dr. Tohe is professor emeritus for Arizona State University and she is the current Navajo Nation Poet Laureate. Dr. Tohe was also named a 2020 Poet Laureate Fellow by the Academy of American Poets.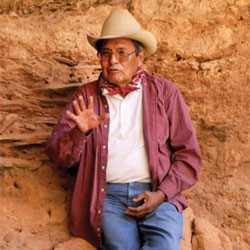 Harry Walters is a scholar, archaeologist, historian, Diné cultural consultant, teacher, and former director of the Diné College Historical Museum, which he held for 35 years before retiring in 2008. He attended the Institute of American Indian Arts, the Kansas City Art Institute, and the College of Santa Fe. Walters is from Cove, Arizona.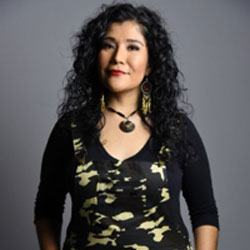 Tanaya Winder is a poet, writer, artist and educator who was raised on the Southern Ute reservation in Ignacio, CO. An enrolled member of the Duckwater Shoshone Tribe, her background includes Southern Ute, Pyramid Lake Paiute, Diné, and Black heritages. Tanaya writes and teaches about different expressions of love (self love, intimate love, social love, community love, and universal love).